Mommy & Me
This is an English lesson for parent and child.
For children, play is learning, so learning should be play!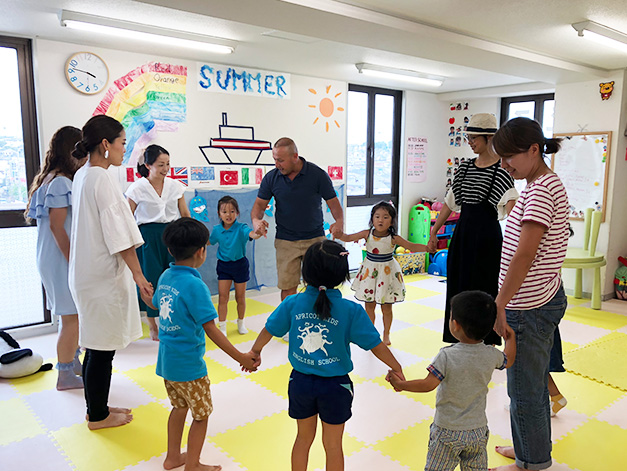 Let's enjoy fitness through English songs
Let's learn English through rhythm and expression.
M&M (Mommy and me) is a class in which children move and play freely through rhythm and sound. Learning emotional expression through rhythm and playing with the foreign teacher. Our program is based on an American Infant Program which basically includes art, dramatic play, storytelling, and more which will help children in their development stage. Through these activities, it will help the children to think creatively, know emotional aspects and social involvement, language ability, physical and exercise capacity, and more. This will support their early childhood development in a balanced way.
Reasons to choose
Apricot Kids
Mommy & Me
In M&M (Mommy and me) While learning English through rhythm and emotional expression, they can also learn literacy (Language ability) and exercise, both are a great combination which is a perfect programme for them. Here you will grow memories and create new experiences within the class with you and your child.
Activity (Art & Craft)
Through Art and Craft kids can easily express their emotions as well as enhance their creativity levels which is beneficial when learning a second language. We conduct different events every season. Focusing on the theme of the event helps children stay motivated and helps them further expand their imagination and expressions, this increases their vocabulary and communication with your child.
Begin Early & Group Game

The earlier your child starts to experience this type of learning scheme, the more likely this will enhance their better pronunciation, vocabulary, socialization and understanding abilities.
Playing in groups helps the, physically stronger and enhances their communicational and team-work skills. This also helps children share their feelings and be more socially. Involved with each other.
Friendship and Communication.
This not only helps kids play and make new friends, but it also comes in handy for parents wanting to share any ideas, worries or just to exchange information with other moms and learn about how their kids are getting on within the school.
After 3 months of committing to the 'Mommy & Me' programme, you can receive ¥20,000 towards the Preschool program registration.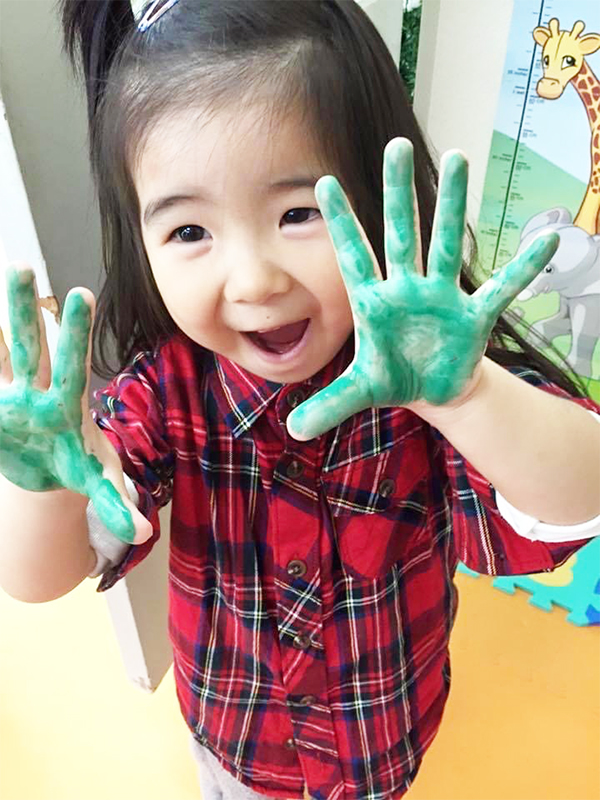 Information about our classes (time schedule and amount)
Schedule: Apricot Kids Ibaraki
Tuesday 09:15 – 09:45
Friday 9:15 – 10:45
Age Group:6 months〜2yrs old + Guardian
Class Size:Up to 6 families
Admission Fee:5,000円
Monthly Tuition Fee:5,500円(Once a week)10,000円(Twice a week)
Others:Insurance Fee(Once a year)3,200円/Miscellaneous Fee 7,000円
Schedule
| | |
| --- | --- |
| Time | Activity |
| 0min〜5mins | Arrival, free play with teacher, parent and child. Clean up together |
| 5mins〜10mins | Circle Time – ABCs, Days of the Week, Weather, etc |
| 10mins〜15mins | Song of the Month and Dance M&M |
| 15mins〜20mins | Shapes, Colors, Numbers&Fitness |
| 20mins〜25mins | Story time |
| 25mins〜30mins | Snack time |
| 30mins | Goodbye |